I am really in a thieving mood right now! Some serious larceny is occurring on this blog.


I frequently visit Une Femme
here
. Une Femme, a.k.a. Susan, is a lovely American lady who puts together some stylish yet simple outfits for everyday wear. Her travel packing posts make are my essential pre-holiday reads.
I loved the simplicity of this outfit which she put together recently. I would instinctively put gray jeans with gray cardi, but I think the idea of black pants puts some zest into the pairing. It looks somehow perkier, fresher, perhaps frenchier!
So, liking this gray and black mix, your serial larcenist got going!
I tried to tell myself I was sourcing inspiration rather than plain stealing, so I varied it a little with what I had to hand.
I accessorised my outfit with a pearl pendant - such a subtle variation!
And her black pants are more slouchy than my black jeans, but I was just seeking inspiration.
(Oh shucks, I just spotted that I should have worn brown boots!)
But there were no delicious red nails or chunky purse per Une Femme as I didn't have either.
And then came a scarf. Of course I had to add one. Une Femme lives in California (permanent UK summer temps), I am in currently in Sussex (UK spring temps, winter temps = same difference).
That was Steal No. 1. And because Une Femme had fired me up and I was cooking on high octane ...
I decided on yet another steal - again, this outfit is so stylish in its simplicity.
I like how the gray jeans seem to soften the black of the rest of the outfit.
In fact, that pairing seems to have the opposite effect of Steal No. 1.
I had similar "ingredients" in my wardrobe here to make up the "recipe".
I didn't have the jewelry layers on the day, but next day I did manage to find some thrift store necklaces (middle pic).
(See how the scarf colours blend with the jacket lining!)
Now, I don't have a blazer over here (stop press: but I do now, I've been shopping!).
So I had to go off-piste a little with the outerwear. My old quilted black jacket stepped in, which was probably a good idea as we are not enjoying any California temps right now - I can but dream ... do some California Dreaming maybe?
And of course I had to wear warmer Chelsea boots, it was not a day for fancy cut-out bits.
I was happy with my Being ... Une Femme outfits, bearing in mind our "spring" weather and the limitations of my current travel capsule. I like her style, so expect more "thieving"!
So thank you for your inspiration, Une Femme!
And whilst we're on the subject of spring and capsules, look what Une Femme has gone and done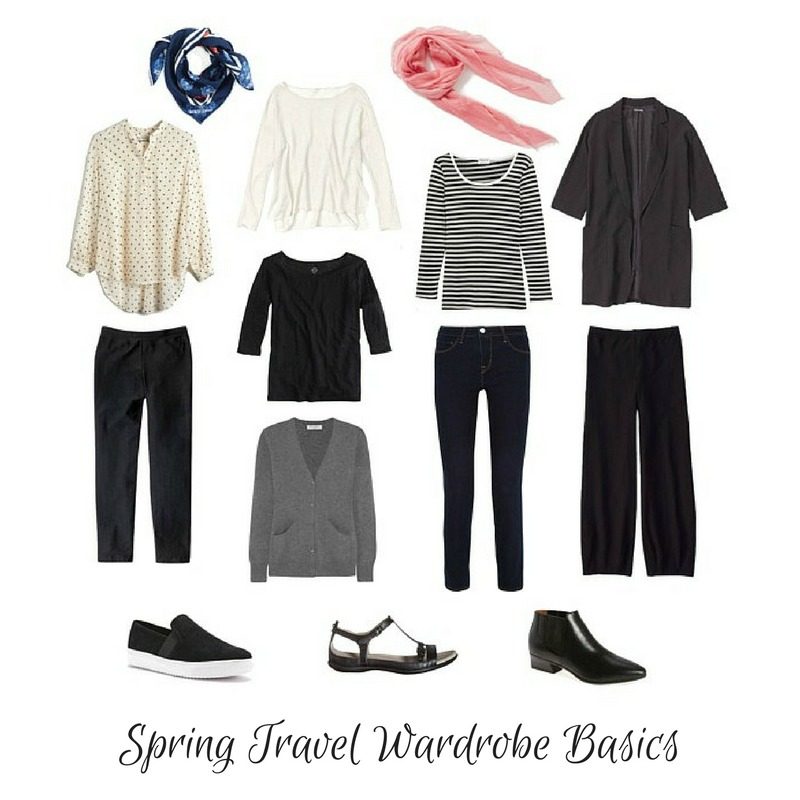 She's only gone and tempted me with this little spring capsule. I think I have most of these ingredients to cook up these little dishes too.
Oh when will this thieving inspiration end ... ?
A la perchoine.
p.s. Not content with style thievery, I've tried my hand at American spelling too - thoro huh?
p.p.s. I've now shopped for another Une Femme signature outfit piece - wait and see what that is!