It started with a cushion,
never thought grey and mustard I'd be pushin'
OK the work I've done on Hot Chocolate's "It started with a kiss" isn't my finest paraphrasing, but you try rhyming something with "cushion"! Can you come up with anything better than "pushin'"? I bet you can!
But maybe it's like "orange", nothing to rhyme with it in the English language. Note to self: avoid post about wearing orange.
So, inspired by a mustard cushion on a grey chair I chanced upon recently, I started my mustard and grey quest with the grey element. The easy bit. Peacock grey jeans.
They're getting baggy; I'd love to say that's because I've lost weight but look at me! No, I think the elastane has finally giving up elastan-ing. I've worn them loads so they've taken a laundry battering and, as was pointed out in a speech at my wedding, I am not the best of laundresses!
Then I dug deep for the mustard. I found this ex-work top in the archives. I teamed it with my soft silk grey scarf from the lovely Janice of The Vivienne Files. That scarf keeps on giving.
Then I found an ex-work jumper. My, it's bright! It has elastane in the fabric mix and its resulting clinginess means my jeans zip and pockets show through. Note to self: try it with grey trousers - come on Pout, you have some of those, surely?!!
Here I tried it with mustard cardi and charcoal Bravissimo jersey top. I can see immediately from this photo that the top chosen for this look should be lighter, to flow with the jeans and comply with the Column Dressing Rule. Note to self: try with frilly stripey blouse.
I think the top outfit looks OK, perhaps because of the lovely scarf. It seems to best capture the essence of my chair/ cushion inspiration. The others need work. And what I can see from this little experiment is that serious scarfage is therefore called for. A grey/mustard blanket scarf would pull these outfits nicely together - leave that one me, dear reader, I'm on the case.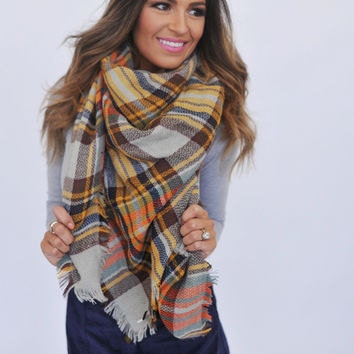 Etsy.com
So, dear reader, I've given you the worts-and-all today. My work in progress. Working on how I can put something together in the colours that have so inspired me.
The mustard cushion on the grey armchair.
The pat of butter on the grey dish, spotted by Anna of Mutton Style in one of my pics.
Now, dear reader, do you fancy putting together a mustard and grey outfit? And maybe sharing it?
And then, following those pics first shown
here
, my dear Dutch friend told me her lounge in Dutchland is now grey and mustard.
She sent me these pics of it. Doesn't it look lovely? And so stylish. So co-ordinated.
Our minds must be in sync on colour!
And that lady really does believe in colour co-ordination. Look at her ultimate lounge accessory ...
... her adorable grey French bulldog Percy, celebrating his birthday this week wearing a light mustard party hat! She's co-ordinated pet with lounge.
My, that lady is serious about colour!
So look what I've put together for you on this rainy afternoon, dear reader.
The behind-the-scenes on an outfit that hopefully I will soon show you in completed form.
Home décor. A little Pet Corner thing.
Where else can you get such miscellany?!!
I'll be back with a briefer post tomorrow. I know you lead all lead busy lives so I appreciate that you've stuck around to read this rambling post today.
Please pop by again soon. Tomorrow would be good!
A la perchoine.